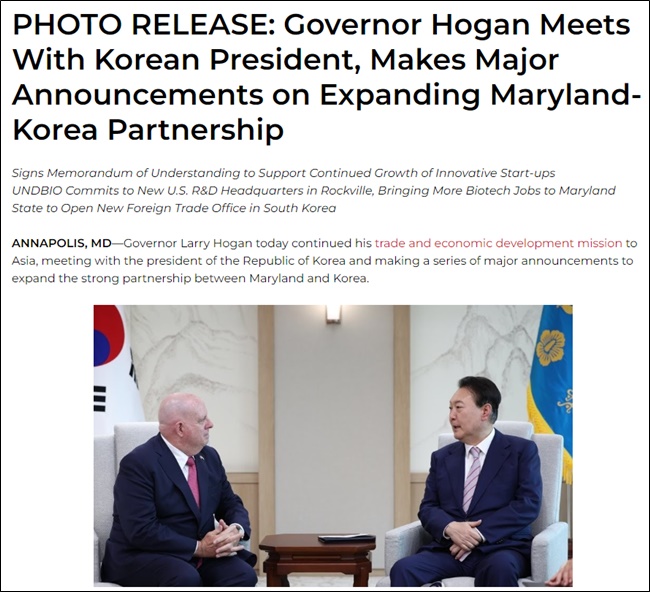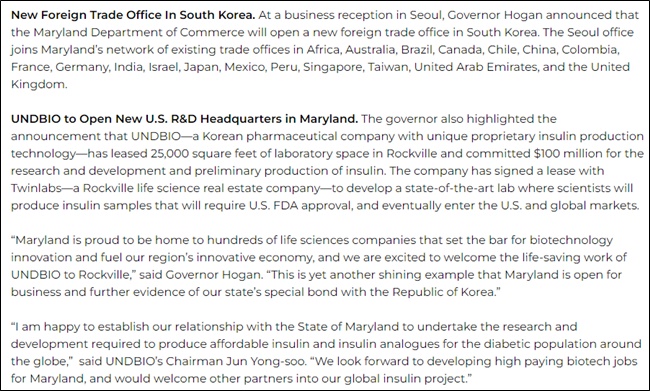 Source: Maryland.gov
Link: Governor Hogan Meets With Korean President, Makes Major Announcements on Expanding Maryland-Korea Partnership
▶ UNDBIO to Open New U.S. R&D Headquarters in Maryland.
▶The governor also highlighted the announcement that UNDBIO—a Korean pharmaceutical company with unique proprietary insulin production technology—has leased 25,000 square feet of laboratory space in Rockville and committed $100 million for the research and development and preliminary production of insulin.
▶ "Maryland is proud to be home to hundreds of life sciences companies that set the bar for biotechnology innovation and fuel our region's innovative economy, and we are excited to welcome the life-saving work of UNDBIO to Rockville," said Governor Hogan.
"I am happy to establish our relationship with the State of Maryland to undertake the research and development required to produce affordable insulin and insulin analogues for the diabetic population around the globe," said UNDBIO's Chairman Jun Yong-soo.